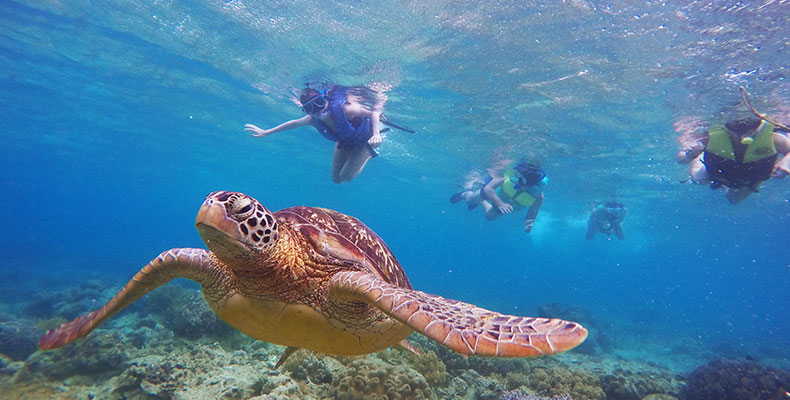 Dauin offers a great number of activities whether it is exploring the oceans or experiencing Filipino culture.  Are you wondering what to do when visiting Pura Vida Beach resort? Here are the some of the activities around Dauin you must do:
1. Turtle encounter at Apo Island
Apo Island is a 74-hectare volcanic island that's located 6km south of Dauin. This world-famous marine reserve is home to 450 species of coral as well as 650 species of fish.  Snorkelers and divers usually encounter green turtles in the shallow areas on the west side of the island.
How to get to Apo Island
The Sea Explorers dive center offers day trips for snorkelers and divers. It takes a 30-minute boat ride to get there and snorkelers can jump in wherever the divers go. Another option is to go with the smaller public bank boats that depart from the Malatapay wharf.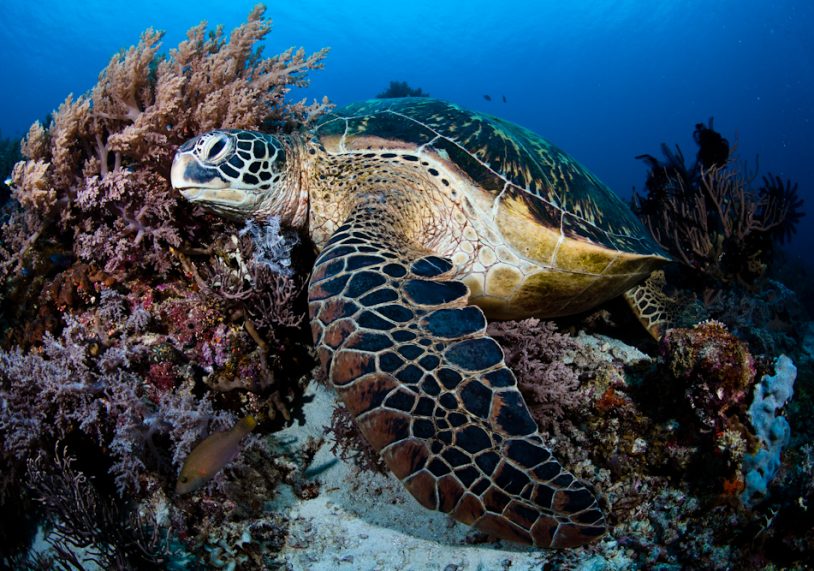 2. Visit the Baslay hot springs
Although Mount Talinis is declared as an inactive volcano, there are still many sulfur vents around the mountain. One of them is in Baslay, Dauin, a small mountain barangay only 10km away from the Dauin proper.  After a 30 minute off-road ride by motorcycle or ATV, visitors are led by the stairs going down to the Baslay river.  The sulfur vents are channeled into 4 small pools that are mixed with fresh river water, and each pool having a different temperature. The therapeutic sulfur baths are believed to have dermatological and other benefits.  The smell of the sulfur water resembles something like old eggs, but swimmers don't need to worry:  100 meters up the river is a small enchanting waterfall where they can rinse off the sulfur residue, cool down, and enjoy the refreshing ambiance.
3. Snorkel at the Dauin marine sanctuary
One of the oldest and biggest marine sanctuaries in Dauin in the Dauin Marine reserve located in Poblacion. It is so big that divers have divided it into two dive sites, commonly known as Dauin north and Dauin South.  The hard coral gardens start already at a very shallow depth of 1 meter and go down to 18m along the slope.  Hawksbill turtles,  green turtles, parrotfish, bat are often spotted in the shallow areas. The sandy beach provides easy access for swimmers and snorkelers.
How to get to the Dauin Sanctuary
From Pura Vida, it is a 20-minute walk along the beach or a 4-minute boat ride with the Sea Explorers boat.  From the national highway, it is a 10-minute walk.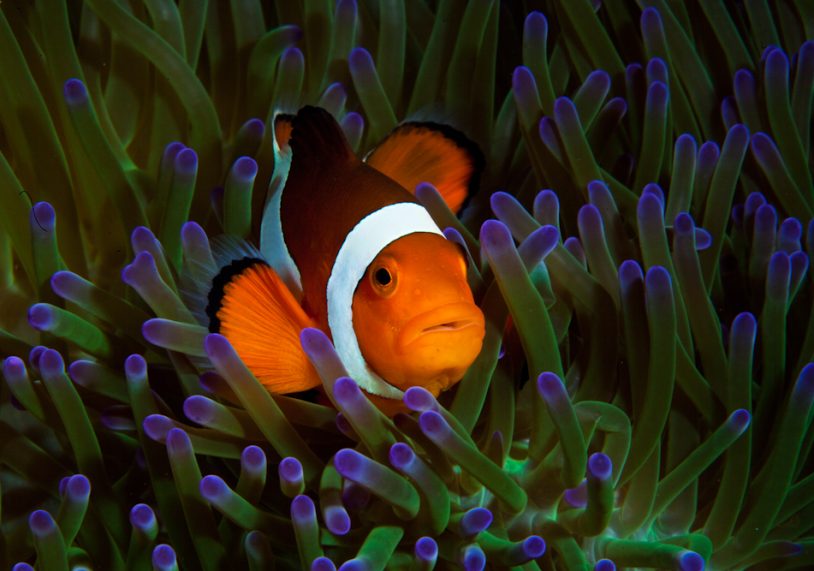 4. Experience the Malatapay market
Only 6km south of Dauin is an authentic Filipino experience that every visitor must do. Every Wednesday, farmers and traders from all neighboring towns gather along the famous Malatapay market. The market consists of a narrow road that starts from the highway and is occupied with small bamboo stalls. Merchants display exotic fruits and vegetables, native delicacies, fresh seafood, thrift shops (locally known as "ukay-ukay"), handcrafted souvenirs, and many more colorful and strange items. Another interesting part is the livestock market where cows, water buffalos or "carabao", pigs and chicken are sold or traded. The Market ends near the beach and it is here where you can experience some local Filipino food. Roasted pig, also known as "Lechon", is served here by the kilo and it is of course a favorite amongst locals. Fresh fish is also available here and usually served as "kinilaw", a sort of raw fish salad.
How to get to Malatapay
Pura Vida Beach resort offers regular excursions to Malatapay. It is a 15-minute car ride and usually starts around 8:30 in the morning.
5. Take a PADI Discover Scuba Diving course
Because of its rich marine life along the coast as well as in Apo Island, Dauin has become a well-known tourist destination.  Many beach resorts in Dauin have an in-house dive-center where certified divers can go out for diving trips. For those who have never tried scuba diving and are curious what it's like to breathe underwater, there is the PADI Discover Scuba Diving course. The "DSD" is an introductory dive course for beginners which include a short theory lesson, quick pool training, and an amazing open water dive up to 12meters! This is a perfect half-day activity. Pura Vida's dive center Sea Explorers offers these courses in several languages with experienced instructors. Courses are available in English, Tagalog, Visaya, German, Dutch, French, and even in Chinese.
Requirements for participating in a DSD course
Must be at least 10 years old
Must be in good physical health