Restaurant
We make sure that every bit of your stay is memorable and enjoyable. Food plays a big role and that's why we have carefully created a menu that caters to every taste.
Pura Vida Restaurant started as a small and simple restaurant way back 2004 that served exclusively to their guest divers. Since then, it has grown to be one of the best and favorite restaurants in Dauin frequently visited by families and is now serving to more diverse group of people.
The newly built restaurant is located in between of Pura Vida and Vida Homes, overlooking the scenic view of the sea and the pool. The building is inspired by a Spanish colonial period. Its tables and chairs are made of well-crafted bamboos and indigenous hard wood. The accents, decors, chandeliers are made by local artisans.
Guests are welcome to enjoy dining at the revitalizing beach front in the Tiki huts or choose to seat in the cozy outdoor balcony or indoor air-conditioned room for a more intimate dining. The dining area offer spacious and comfortable seating for families, group of friends, travel groups and couples.
Menu
Pura Vida Restaurant is a place where everyone can enjoy sumptuous food and experience the warm Filipino hospitality; a service with a smile. Our Menu offers a wide range if dishes, variety of all-time favorite Filipino food, other Asian and European inspired cuisines. The daily and weekly specials are thoughtfully selected and prepared by our Chef. We strive to create fresh, healthy, tasty, enjoyable food made from local ingredients because we believe that what we eat is important for our health. To protect our environment, we use sustainable energy such as solar on our daily operation and we work hard to reduce carbon footprint.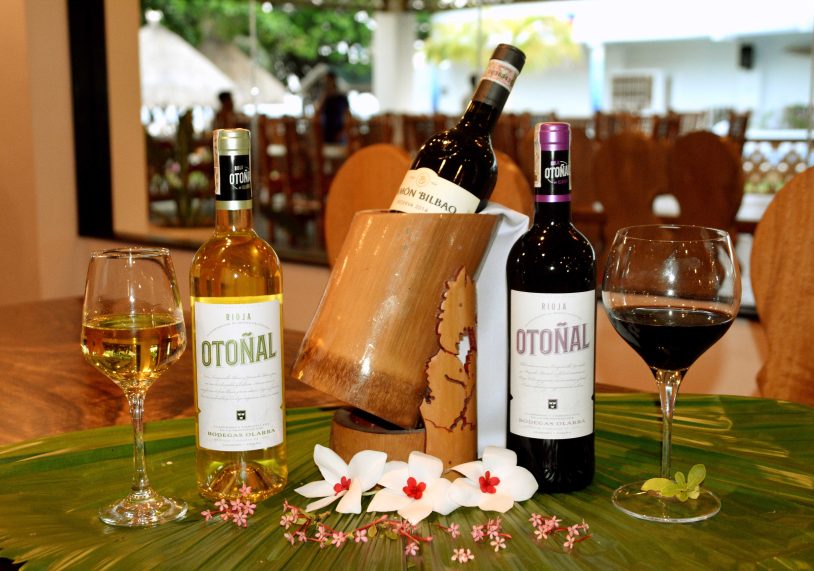 Wine Cellar
Taste, feel and enjoy as you delight in every sip of your wine from Pura Vida Wine Cellar. All wines are carefully selected to complement your taste.
Treat yourself, make your leisure time more luxurious, dine and relish it with a nice glass of wine.
Wine makes daily living easier, less hurried, with fewer tensions and more tolerance.

By Benjamin Franklin, American author, scientist and politician (1706-1790)