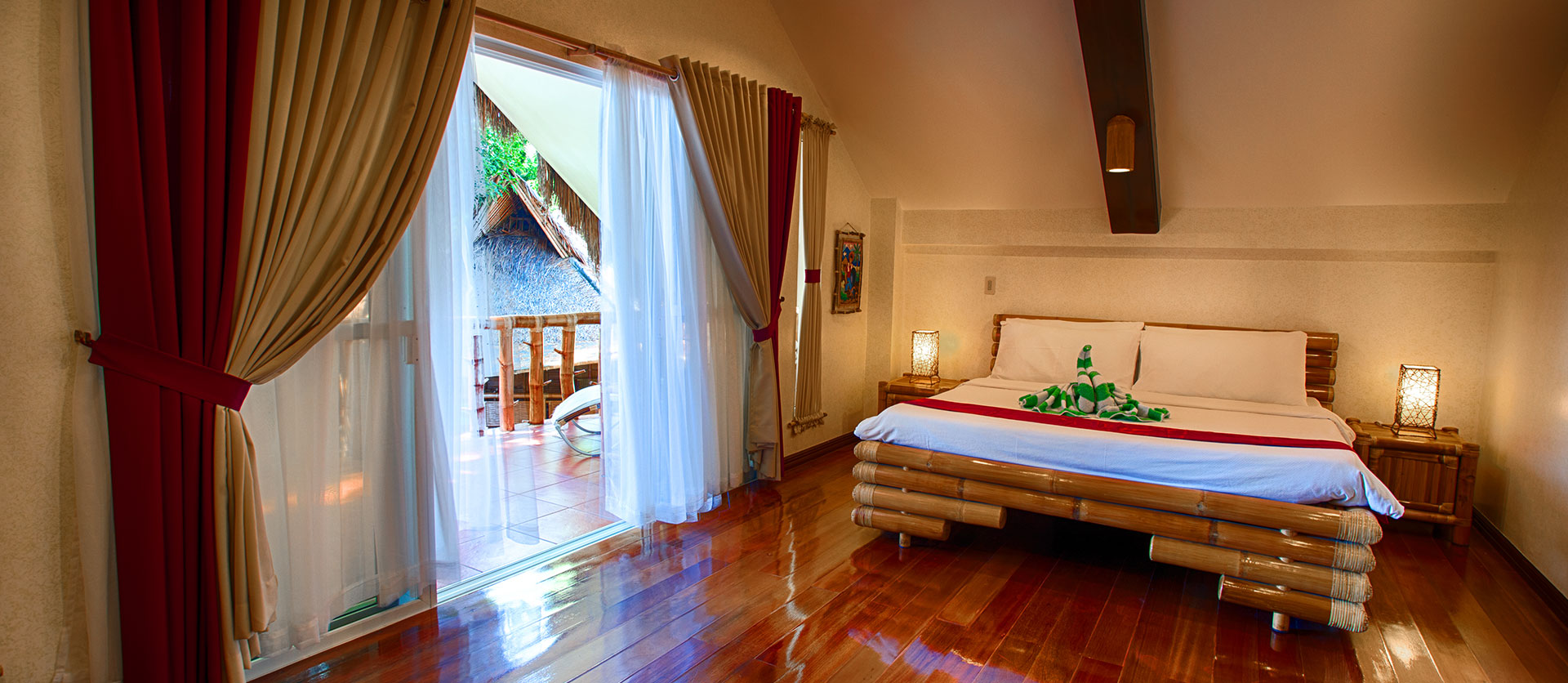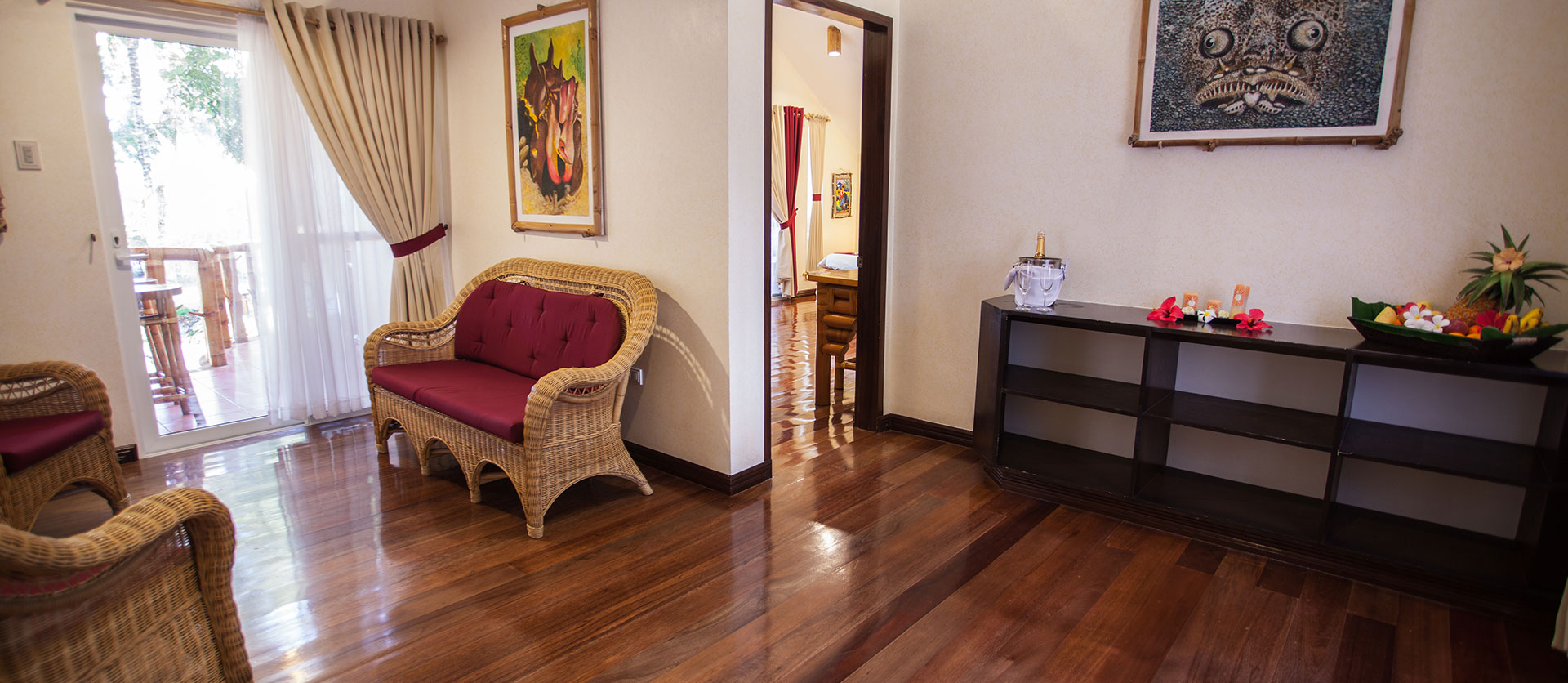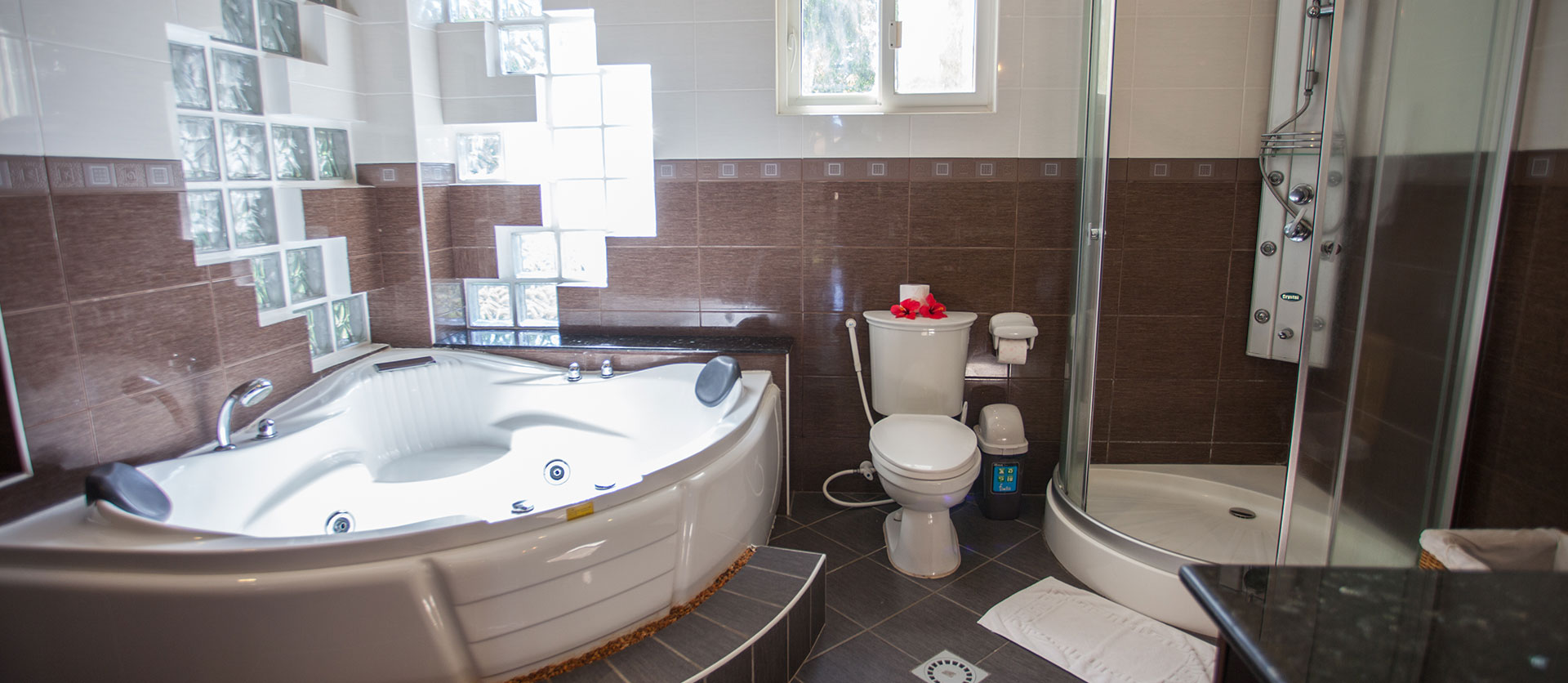 Suite
The resort features 2 suite rooms (Stargazer & Birds Nest) and both are located on the 2nd floor above the family rooms. The spacious balconies feature a small bar including a mini-bar refrigerator as well as 2 sunbeds which offer a nice view over the tropical garden towards the pool and sea. Each Suite has a living room furnished with a beautiful set of one double and two single sofa chairs and a table made of high quality bamboo.
A King size bed, a flat screen TV as well as a split air con to cool down the Suite to your preferred temperature will ensure you a good rest during the night. But before you settle in to sleep, you can enjoy the big bathtub or a just a shower in the suites' comfortable and big bathroom which provides hot water as well as a double sink. Perfect for honeymooners, couples, and single travelers who simply want to pamper themselves.
---
Services & Amenities
1 King sized bed
Living room area with sofa set
Private balcony with 2 sunbeds
Large bathroom with whirlpool
Hot & cold shower
Quiet split type air-conditioning
Hairdryer
Mini bar refrigerator
Complimentary water carafe
Complimentary coffee & tea making facility
In-room safe
Flat screen cable TV
Good for two (2) persons
Extra mattress/bed possible (with surcharge)
---
Helpful Tips
Both suites are very close to the Vida Spa
Suites are not accessible by wheelchair
---
Room virtual tour
Reviews
"No reason to leave" Great food, quiet location, relaxing atmosphere. This was a weekend getaway from the hustle of Makati, and it was simply incredible. I booked a suite, which was actually the entire top floor of a townhouse. VERY well appointed for the location, and just a wonderful resort. Manicured lawns, GREAT food, and a little private beach area. It's set up most for those that dive, but it can be enjoyed by anyone. Spend a little extra and get a suite, well worth it!
Similar Rooms
Pura Vida on Instagram
Follow us @puravidadauin
Instagram has returned invalid data.