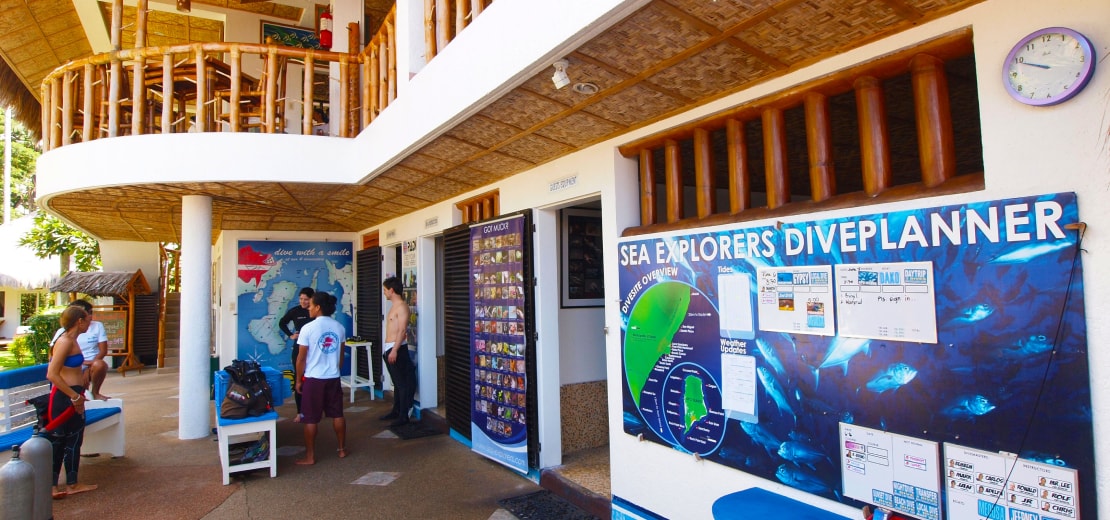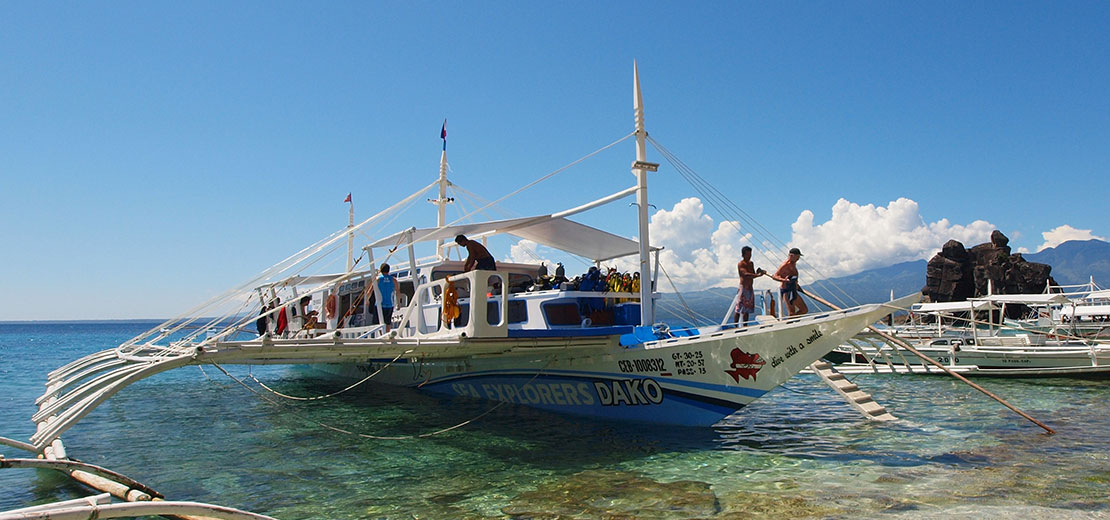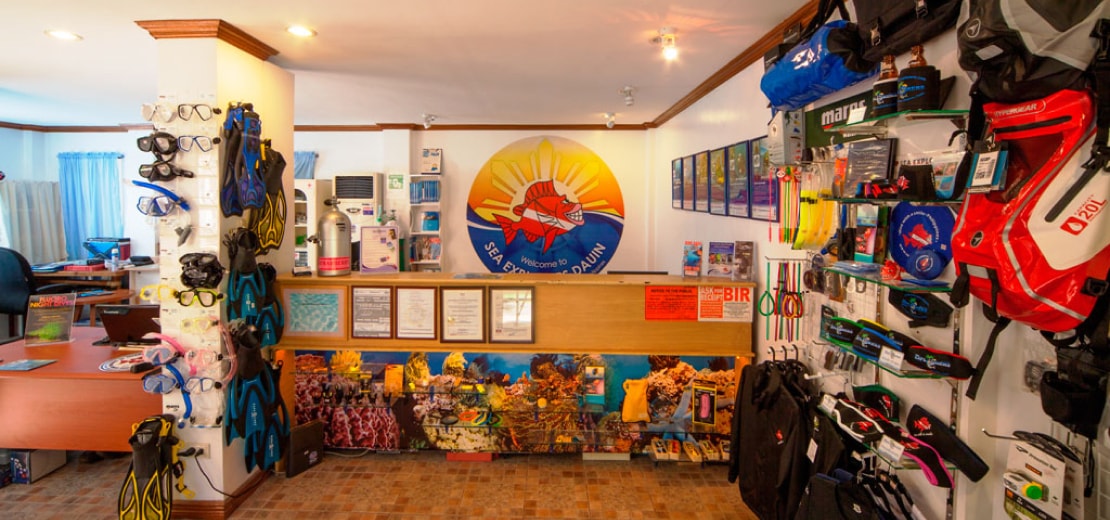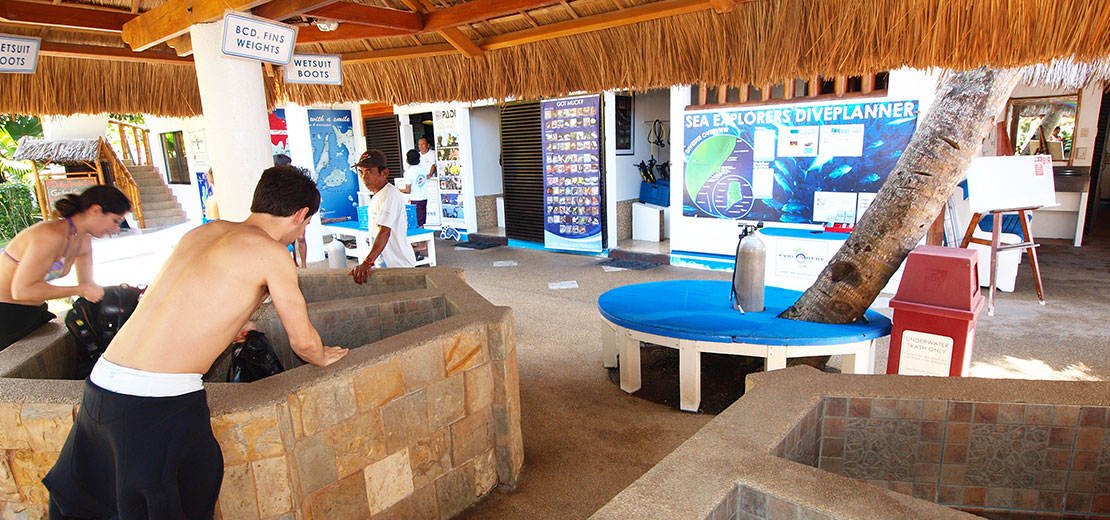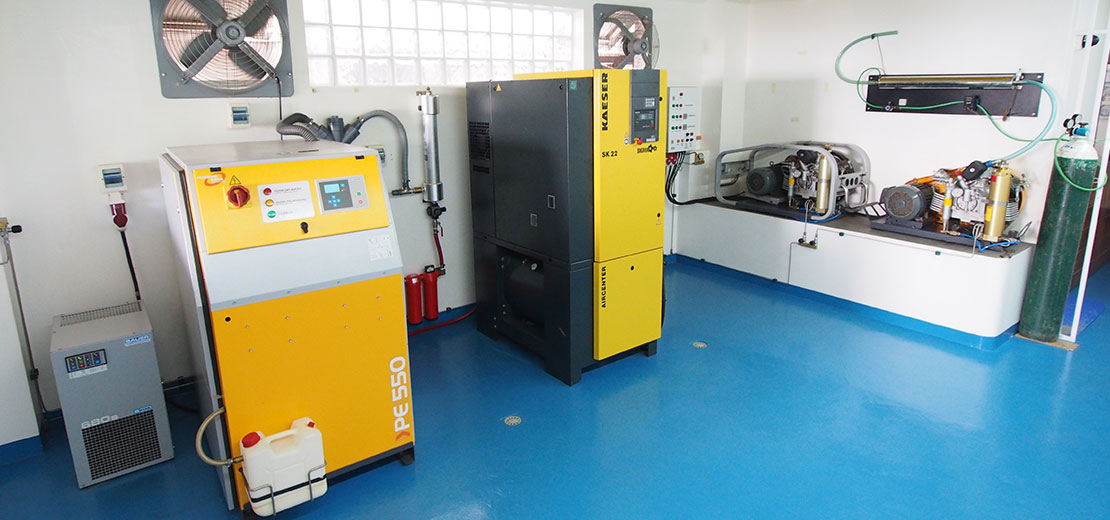 Dive Center General Information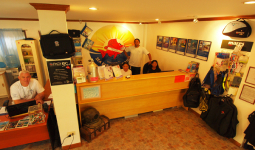 Dive Center Check In
The dive center is open daily from 8 am to 7 pm. Check in is possible any time during office hours. Our staff will show you around, explain the dive center procedures, and help you get your dive equipment ready. The following documents are required for dive center registration: Diver certificate, logbook, medical certificate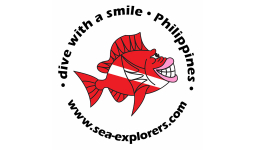 Guidelines
Temperature: Water 26-30°C / Air 25-33°C
Up to 4 dives a day possible
Small groups, up to 4 divers per dive guide
Up to 5 divers only if one diver is a divemaster or instructor
Maximum depth up to 40m
Nitrox up to 32% (surcharge applies)
Sanctuary fees applicable (click for details)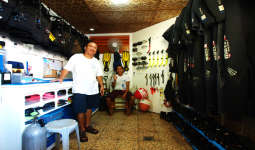 Equipment
Full rental equipment for 20 guests
2 full sets for children including 8 liter tanks
12 liter aluminum tanks with Yoke (INT) valves and some DIN valves
15 liter and 10 liter aluminum tanks
Underwater torches
Dive computers
SOLA blue light torches for fluoro night dives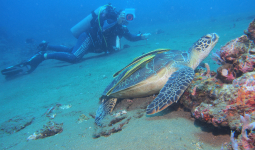 Diving
World class muck diving in dark brown sand
Day trips to Apo Island, Siquijor
Special day trips to Sumilon Island
Late afternoon dives with mandarin fish & night dives
2 tank and single tank dives along the coast line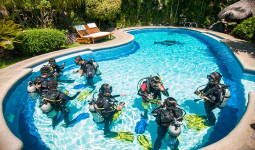 Diving Courses
PADI beginner courses up to divemaster
Languages: English, Tagalog, Cebuano, German, Dutch, French (other languages on request)
PADI IDCs – Open water instructor. Contact us for further details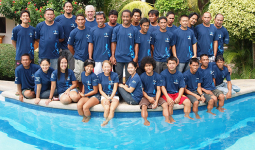 Our Team
Manager: Jan Sledsens
Dive Team Leader: JR
Dive Guides: Carlos, Denden Vanella
Instructors: Damron, Ronald, JR, Khokoy
Course Director: Tim Bradley
Boat Crew: Joseph, Gerome, Renante, Bonet, Junjun, Roland, Reymond, Gilbert, Sammy, Danilo, Cielo, Gary, Bobong, Loloy, Danny, Jay
Dive Center: Jesse, Misael, Mayrico, Arnel (Gaga)
Office Staff: Belinda, Ludi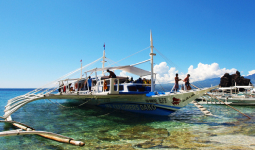 Dive Boat: Dako
Diver Capacity: 16
Complimentary drinking water, coffee and tea
O2 equipment and first aid box
Spare dive equipment and toolbox
Emergency communication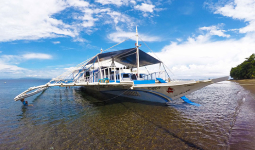 Dive Boat: Jumica
Diver Capacity: 16
Complimentary drinking water, coffee and tea
O2 equipment and first aid box
Spare dive equipment and toolbox
Emergency communication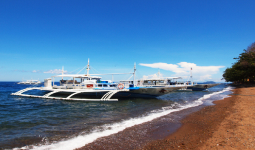 Dive Boat: Gypsy
Diver Capacity: 16
Complimentary drinking water, coffee and tea
O2 equipment and first aid box
Spare dive equipment and toolbox
Emergency communication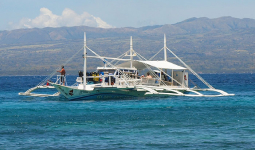 Dive Boat: Island Explorer
Diver Capacity: 12
Complimentary drinking water, coffee and tea
O2 equipment and first aid box
Spare dive equipment and toolbox
Emergency communication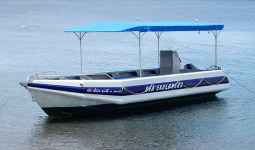 Dive Boat: Kanaloa
Diver Capacity: 8
O2 equipment and first aid box
Spare dive equipment and toolbox
Emergency communication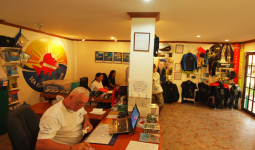 Dive Center Check Out
Our office staff will have your bill ready after you have finished your dives. Payment after you have reviewed the charges can be made either in cash (Euros, Swiss francs, US dollars, Philippine Peso or Yen) or by credit card via Paypal (VISA, American Express or Mastercard). Only Sanctuary Fees have to be paid in cash. Please take note that the dive center bill is separate from the hotel bill.
Sea Explorers on Instagram
Follow us @seaexplorersphilippines
Instagram has returned invalid data.